Working remotely and starting businesses from home have grown in popularity over the past decade. Currently, in the United States, millions of self-employed individuals have acted upon home business ideas and work regularly from their home.
There are plenty of compelling reasons to want the flexibility that working from home can offer. If a change in lifestyle is what you're after, then you'll want to take a close look at your skills and interests to figure out which of the many work-from-home jobs suits you. To help you in your exploration, we've gathered this list of 40 of the best home business ideas.
Home business ideas
Any office worker can probably tell you that they've had a daydream about quitting their job and starting their own business. Luckily, in this technological age, this dream can more easily become a reality. If you have a computer and internet connection, there are home business ideas aplenty, including those with low startup costs (if any) and flexibility for stay-at-home parents.
Do you need funding fast?
See offers from multiple lenders with one search. Some of our lending partners offer financing within days.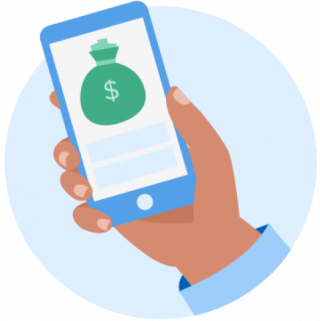 Here are 40 of the best home business ideas to consider:
1. Freelance writer
If you're a great writer, then you could make a great freelance writer. And best of all, freelance writers work from all over the world. Whether you want to sit in your neighborhood cafe all day or country-hop all year, this job could apply to you.
Of course, successful writers need to have a firm grasp on grammar and tone, superb editing chops and the ability to do their own research and synthesize content that they might be unfamiliar with. It could help if you become an expert in a few different fields, like technology or small-business finance, and it's always important for all freelancers to know how to market themselves and network with potential customers.
You might be asked to write anything from a blog post series to an industry white paper, website copy or email newsletters. The more you're familiar with, the better off you are.
And finally, don't forego the possibility of writing your own e-books to sell on Amazon and similar websites. With basically zero publishing costs and low design costs, this is another way your writing can benefit your bank account directly. (You could even write an e-book about freelance writing — the possibilities are endless.)
2. Virtual assistant
If all of your friends know you as "the really, really organized one," then being a virtual assistant might be the home business idea for you.
When busy executives reach a point in their careers where they can't manage all the calls, emails, appointments and smaller responsibilities on their plates, that's where you come in. As a virtual assistant, you would use your phone, email, computer skills and any number of online tools and applications to handle their online calendars, schedule appointments and meetings, make reservations, purchase tickets, set up reminders, organize events, file documents and more.
If this kind of work isn't your thing, then it might sound a bit unglamorous. But if you're the type of person who color-codes their planners and sends out Google calendar invitations for coffee dates, then being a virtual assistant could be a fun and fulfilling job — that you can do from home.
3. Researcher and fact-checker
From perusing old academic essays or case files to analyzing bibliographies or carrying out some market research, you can establish yourself as a professional researcher and fact-checker. Various types of businesses within several different industries need researchers and fact-checkers. Establishing a niche may help you better market your services.
You need to be organized, meticulous and skilled at communication. If that sounds like you, then add this to your personal list of home business ideas.
4. Social media manager
Today, every business, brand and public figure needs social media to engage with their audience, stay relevant and boost brand awareness.
And as it turns out, many companies pay pretty highly for people to manage their social media accounts well. If you can stay on brand, share content appropriately and reply to customers intelligently — while getting those precious likes, hearts, retweets and upvotes en masse — then you could be a killer social media manager.
5. Blogger and affiliate marketer
While managing a blog in and of itself won't net you any money — in fact, it'll cost you to purchase a domain, upgrade the appearance and run marketing campaigns — there are a few ways for you to monetize your blog. You could offer up advertising space, which is a useful but typically minor revenue stream, but a lot more money is often found in sponsorships and affiliate marketing.
Affiliate marketing, a sort of product placement, will let you receive payment from companies in return for advocating for their goods and services. Although this might sound a bit iffy, if you truly do recommend that your readers try out these products, then it doesn't need to come across as sales-y or insincere. Readers will understand that you need to make money somehow, and many will appreciate your recommendations if they're accurate.
6. Freelance designer
If you're more of a visual person, then the freelance lifestyle can still work wonders. Try your hand at designing posters, flyers, or online advertisements for companies that don't have the time or talent to do this work themselves.
As a freelance designer, you'll build an online reputation and eventually have control over the projects and timelines you manage. Try out Behance and other freelance design sites to check out your options.
7. Freelance coder
Becoming a freelance coder is an especially great home-based business idea since it's already a very commonplace gig. Whether you want the flexibility of being your own boss, enjoy taking on a wide diversity of projects rather than working with a single company, or prefer to travel instead of staying in one place, you've got many reasons to pursue freelance software development — even though technology companies and startups offer their own perks as well.
8. Online thrifter
Have a unique eye and the salesman's pitch down to a science?
If so, you might want to consider running your own online thrift shop. Whether you focus on fashion specifically, another category of product, or prefer to amass collections of interesting items from all over the internet (but especially eBay), there's always a strong demand for items with a story.
Give your store a compelling, memorable identity, and it will be seen as much more than a simple consignment store.
9. Data entry guru
It might not be the most lucrative or stimulating job in the universe, but data entry can certainly give you the funds you need to work from home or abroad. Plus, data entry jobs rarely require a lot of time or attention, unlike many on this list of home business ideas. You can listen to your favorite podcasts or audiobooks as you work your own hours.
Moreover, since all you need for data entry is a computer, this is certainly a home business idea with low startup costs — if you already own a laptop and have a reliable WiFi connection, you're pretty much all set.
10. College consultant
If you're a top-notch editor with a deep understanding of how college admissions works — including standardized test preparation, personal statement requirements, supplemental essay requirements, applicant statistics and even financial aid — then you might be able to snag a rather well-paying job as a college consultant. Some families are willing and able to pay, and pay well, to make sure their kids submit the best possible applications to their dream schools.
This is by no means an easy job, as it requires a lot of knowledge and skillsets, but it can bring in a lot of cash for a home-based business.
11. Online tutor
Whether you're an expert in a certain subject matter, like calculus or biology, or you've secured top scores on standardized tests, like the SATs or MCATs, you may be able to share that knowledge with current students looking to get an edge.
So if you have a passion for teaching, are up to date on the formats and policies of the tests you plan to instruct students on, and feel comfortable handling the content, then it might be time to start an online tutoring business.
And just like with the rest of these online home business ideas, you can easily service customers over the phone or, in this case, a video conferencing program like Skype or Zoom.
12. Translator
If you know multiple languages, then this is the home-based business idea for you. As a translator, you can service businesses and clients in a number of different ways. You can translate articles, press releases, e-books or other written work. You might also translate videos, podcasts or contribute to international closed captions for a variety of visual products. Moreover, you might connect with international businesses to serve as a translator for meetings or phone calls.
With experience in more than one language and access to the internet, you'll be surprised about how far-reaching your home translating business can extend.
13. Cybersecurity consultant
With even the biggest businesses around the world being subject to data breaches, cybersecurity is more important than ever. If you have experience with software and IT, a remote job as a cybersecurity consultant might be one of the best home business ideas for you.
From the comfort of your home, you can work with different companies to test their programs, software, backups, firewalls, encryption and generally assess potential threats to their network and advise them on the best cybersecurity practices. Although this may be one of the home-based business ideas on our list that requires the most training and education, it can be a highly lucrative position if you already have the knowledge, or are willing to work to obtain it.
14. Transcriptionist
Can you type extremely quickly while listening to someone talk? If the answer is yes, you might consider transcription services. Like data entry, this might not be the most exciting of our home business ideas but is certainly low-cost, flexible and you can get started very easily. There are all kinds of companies out there who hire freelance transcriptionists, as well as specific services that employ individuals to transcribe audio for various clients.
15. Travel planner
If you frequent websites like TripAdvisor and Yelp and are well-traveled yourself, you might extend your travel expertise to others as a home-based travel planner. You can use your experience to plan and book trips for your clients — manage hotel reservations, flights, excursions, create itineraries and offer tailored recommendations.
For families looking to go on a two-week vacation or couples planning their honeymoon, hiring someone to handle the details, big and small, of their trip, can be invaluable. Plus, in working with different hotels, resorts and vacation attractions, you'll start to build relationships with the staff — and possibly, receive discounts or perks that will make traveling on your own even easier (you might even start a travel blog while you're at it).
16. Fundraiser
If you have any prior experience managing campaigns and events, or simply have an electric personality, you might consider starting a freelance fundraising business. As a fundraising consultant, you'll have the opportunity to market for a business or cause and talk to prospective donors about how and why they should contribute to your campaign.
This home business idea is great for individuals with a background in nonprofit or government work, as well as former marketers or salespeople. If you have excellent people skills and a drive for meeting goals and getting results, this can easily be the right business for you.
17. Medical billing and coding
Although this job may require some form of medical background or schooling, it can be easily profitable and sustainable. Medical billing and coding connect health care providers, patients and insurance companies. As a medical biller and coder, therefore, you would work with patient records to determine the correct codes that are then verified by doctors and sent to insurance providers.
This career is a great business idea for nurses looking for a change; they can easily utilize their prior experience and relationships to succeed in this kind of self-employed role.
18. Video producing
With the prevalence of video in social media and marketing, the need for video producers and experts has only grown in recent years. Even if you don't have prior experience cutting and editing video, this is an online-based home business idea that you can easily learn and teach yourself with classes, tutorials and general guidance from the online video community.
Moreover, video production can transcend a number of different industries, styles and goals. As a video producer, you'll not only have the flexibility of working from home on a variety of projects, but you'll also have the ability to utilize your creativity on a daily basis.
19. Publicist
Looking for a way to combine your public speaking, communication and writing skills? You might consider serving as a freelance publicist or public relations consultant. You can greatly appeal to smaller businesses or individuals who can't invest in full PR teams or staff, but still need this kind of assistance for their organization.
As a freelance publicist, you may handle press releases, emails, social media — essentially, assisting with all facets of your clients' public-facing presence.
20. Customer service representative
Many companies now outsource their customer service to home-based representatives, so you should have no shortage of potential clients in this field. After all, any service- or product-based organization is more than likely going to have some kind of customer support need.
As a customer service representative, you'll be able to work with individuals online or over the phone and talk them through any issues they're having. If you have a communicative and approachable personality, this could be a great option for you.
21. Pet sitter or dog walker
As a pet sitter or a dog walker, you'll get to spend time with other people's animals while they're at work or on a trip. Simply follow your client's instructions, as well as your own experience and expertise, to provide care and comfort to these pets. It's an easy way to get paid, especially if you're an organized and trustworthy individual with a reputation for or history of animal care.
22. Arts and crafts master
Consider putting your knack for arts, crafts and design to use as the manager of an online store. So long as you believe your creations can find a market and sell at a profitable price, there's very little stopping you from signing up as a seller on a site like Etsy and carving out your niche. While it might be a tough business, there's plenty of wisdom out there to learn from.
23. Accountant
If you're currently an accountant, transitioning to remote work might be as simple as letting your clients know that you work remotely now for reasons of convenience or perhaps hanging your own shingle out to start your own firm. On the other hand, if you're looking to enter the industry (virtually or not), you should be aware of the training and certifications necessary.
24. T-shirt designer
The U.S. apparel industry is a $225 billion dollar market, and as it turns out, the T-shirt business is relatively quick, easy and painless to get into.
So if you're interested in entering the eclectic and diverse T-shirt business with an idea or brand of your own, rejoice: This is certainly one of the best business ideas for setting your own hours and calling your own shots.
25. Cleaning service
If you love — or just don't mind — cleaning up after others, then starting a cleaning business could give you the flexibility you want without forcing you to sit at a computer all day long.
However, this is an endeavor that could certainly grow into a much larger company if you're successful, meaning that, eventually, you'd probably have to get an office and hire staff.
26. Massage therapist and wellness expert
Over the past decade, the massage therapy industry has grown nearly 20% with no indication of stopping. If this statistic interests you, then you might want to consider entering this burgeoning field.
After getting your massage therapy certification, along with the business license and massage equipment needed to work from home, you can turn your house into a local massage parlor for clients to come to, relax and improve their health and wellness. Plus, you could combine your massage therapy with a more holistic wellness practice or a nutritionist practice — but make sure to check your state's licensing laws before offering dietary advice or supplements to customers.
27. Personal trainer
As a personal trainer, you could make house calls, visit a gym or let clients come to you (if you have the necessary equipment). You need to be very knowledgeable about everything from proper exercises for different body types to how to motivate people who want to get healthy. You should feel comfortable getting close to your clients in order to learn what works best for them.
Although a certification may not absolutely be necessary, it's not a bad idea to find out if you can get one in your state before starting up, just in case.
28. Interior decorator
If you have an eye for composition, organization and feng shui, think about starting an interior design business. Partner with local furniture stores and design businesses (with your clients' knowledge) to get good deals, help decorate public spaces and business interiors as well as houses and apartments, and let everyone in and outside your network know that your services are available.
29. Event planner
Everyone plans events — but not everyone lives and breathes it. Do you love coordinating food and drinks, invitations, scheduling conflicts, music, gifts, goody bags and every other aspect of the parties or events you've set up?
From birthdays to weddings, corporate get-togethers and local conventions, the world is your oyster when it comes to events to plan. If you're passionate about logistics, then this could be the home business idea for you.
30. Caterer
If nobody you know can stop talking about your cooking, then maybe it's time to charge for your services and talent and start a catering business.
While you won't necessarily be able to do all of your catering work from home — you may need to use a commercial kitchen and will likely have to hire some part-time employees to help during events — much of the organization, planning, marketing and actual business work can be done wherever you like.
31. Bed-and-breakfast manager
This idea is for the folks who live in popular tourist locations, or would like to move to one. With some preparation, planning, tidying, cooking and a dash of advertising (made easier by services like Airbnb), you can convert your home into a bed-and-breakfast for weary travelers to rest in.
Keep in mind that you need spare bedrooms or a guest house for your customers, and you might want to invest in your cooking and decorating skills to leave a lasting positive impression. Good reviews go a long way in booking out your house for the future.
32. Florist
With a green thumb and a knack for crafts, you might consider opening a floral business to sell flowers and floral arrangements. Depending on your location, you could grow your own flowers, sell and arrange them at home; or, you can outsource the flowers, but still manage the whole of your operations from your own house.
33. Day care manager
Provided you have space, you can start a day care business by supervising a few children during the day — and expanding with staff to accommodate more kids as your business expands.
A day care can be an important business in a local community, especially if your town doesn't already have one. Plus, if you have any experience with teaching or kids, getting into this business will be quick, easy and rewarding.
34. Rideshare driver
Although not home-based per se, becoming a rideshare driver, with Uber or Lyft can offer the same flexibility and freedom as a business that's physically based in your home. As a rideshare driver, your business will more or less be based in your car, and you'll be able to choose your own hours and be your own boss. With the popularity of ridesharing apps continuing to grow, there's no shortage of clients looking for rides, especially if you live in a tourist area or near a big city.
35. Photographer
By starting your own home photography business, you can manage the operational side of your endeavor right from home and travel as needed to meet clients. If your home is particularly picturesque, you might even consider bringing clients there to take photographs or set up a home studio for portraits.
If you want to venture into event photography, you can market your services and look for clients who need professional photography for weddings, graduations, engagements or other events.
36. Landlord
If you have an extra room or guest house on your property, you might consider renting the space — or even investing in a separate property that you can market to renters. As a landlord, you'll be responsible for the upkeep of the property and dealing with any issues that arise with your renters, but you'll generally have flexibility in your business and be home-based.
37. Hair stylist or makeup artist
Are you the person that your friends come to for help with hair and makeup? If so, you might decide to start a home-based salon or makeup artistry business. You can set up a small place in your home with good lighting and the tools you'll need to service your clients, as well as create an on-the-go kit to offer hair and makeup in your clients' homes.
You may find that your hair or makeup business is particularly busy during prom and wedding season, which will be the perfect time to continue to market to new customers. If you have downtime during seasons, you might consider starting a hair or makeup blog or YouTube tutorial channel as well.
38. Eldercare
If you're passionate about helping people and have any experience in personal care, you might consider starting an eldercare business. Nursing homes can be expensive and people are often hesitant to put their family members in full-time care facilities. Therefore, you might decide to offer freelance care, traveling to your clients' homes and caring for them as needed. Keep in mind, you'll want to make sure you have any certifications and the proper training you need.
39. Brewer
With the growing popularity of craft and local beers, you might consider brewing beer in your own home. Although this home business will require research, training and equipment, it can be sustainable if your properly market and sell your product.
Or, if you're particularly attracted to the brewing process but don't want to get involved in all of the other areas involved in selling beer, you might look into contract brewing, where you help beer companies make and package their beer. Either way, this can be a great hands-on business, especially if you like experimenting and figuring out how the best beer is made.
40. Tailor
Even with all of the different brands and clothing stores out there, people are still going to have those moments where they need a piece of clothing fitted or repaired. If you have any skill with a needle or sewing machine, you might want to open up your own home tailor shop. As a tailor, you can perform fittings and alternations for dresses and suits, as well as repair damaged clothes.
Moreover, you might find there's a market for sewing personalization that you could capitalize on as well, especially for sports teams uniforms, wedding gifts, company swag and more.
Tips for starting a home-based business
Owning a home-based business is a dream that many people have. The good news is, the process is much more straightforward than you might think. If you're already working from home, contracting or freelancing, you may be able to turn your marketable skills into your own home business. Consider the following steps:
1. Craft a business plan
All businesses are born from a solid plan. Your home-based business is no different. Decide your company's purpose, figure out what service or products you will offer and set measurable targets and goals. You should also determine business financing options if you need initial capital to get started. Your business plan may adapt as your company evolves, but it's the foundation your company will grow upon.
2. Carve out a dedicated workspace
If you're new to working from home, you may think the kitchen table or couch makes for a perfect workspace. Unfortunately, when you're running your own home-based business, you may need a designated space to manage your business. This space does not have to be large and can always grow with time, but it should be separate from daily distractions in your home. If you don't have a second room to utilize, consider setting up your workspace in a spare bedroom or another less-trafficked room. You'll appreciate the privacy when you're taking work calls.
3. Choose a business entity
When planning home business ideas, you need to decide what type of business you want to form. Each business type has its own advantages and disadvantages, so make sure you do thorough research before deciding on one.
You don't have to form your own business to work from home, but doing so can be beneficial when filing your taxes and separating personal and business expenses.
The bottom line
If you're exploring small-business ideas from home to find the one that will be cost-effective, fit your skills and inspire you—we hope you found the right idea on our list; or, if not, you at least came up with a brilliant home business idea of your own.
The market for working from home (and home-based businesses) continues to grow, especially in small communities and niche markets. If you're intent on shifting to a home-based career, then, the opportunity is out there to start, sustain and even grow your own business.
SOURCE https://www.nerdwallet.com/article/small-business/home-business-ideas